Doctors & Staff
Meet the experienced and friendly doctors and staff who make Vision Source St. Charles the leading provider of vision care products and services in St. Charles.
Mark W. Kramer, OD
Dr. Kramer attended high school in Colorado. He received his B.S. in Biology with a minor in Chemistry from Texas Christian University in 1984. He is a graduate of the University of Houston College of Optometry in 1988.
Dr. Kramer has been practicing in St. Charles Illinois since 1988. Vision Source St. Charles is full scope optometric practice with Dr. Kramer's emphasis being on pediatrics, eye disease treatment and management.
Dr. Kramer met his wife Paula at Texas Christian University and has been married since 1986. They have 2 sons. In his free time Dr. Kramer coaches youth football and enjoys playing golf.
Douglas A. Yuvan, OD
Dr. Yuvan joined Vision Source St. Charles in 1999. He graduated from Oswego High School as the salutatorian, Northern Illinois University with a B.S. in Biology, magna cum laude, and Illinois College of Optometry, cum laude.
His practice is primary care optometry with an emphasis on contact lenses, and diagnosis and management of eye disease.
Dr. Yuvan currently resides in Elgin with his wife Judy and daughter Katherine. He enjoys tennis and golf, along with singing in the church choir.
Kevin D. Goodwin, OD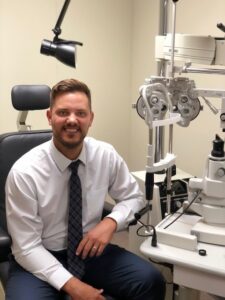 Dr. Goodwin joined Vision Source St. Charles in 2019. He graduated from the Illinois College of Optometry in 2014.
His practice is primary care optometry with an emphasis on dry eye and specialty contact lenses.
Dr. Goodwin has been married to his wife, Lauren since 2019. They have a son, Hudson and the best
dog ever named Lily.
Our staff will be happy to help you with your Eye Care needs!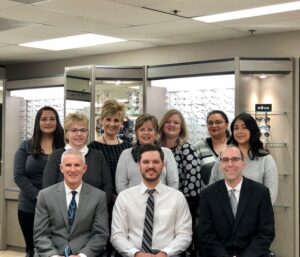 Paula
Paula is the Practice Manager and has been with the office since 1990.
Sue
Sue is our Refractive Surgery Coordinator as well as a contact lens specialist. She is available to answer any questions regarding refractive surgery and the process of pre-op and post-op care. She also has a wealth of knowledge about contact lenses. Sue has been with the practice for over 25 years.
Denise
Denise originally joined our staff over 15  years ago as the Front Desk Manager. Over the years her responsibilities have shifted from assisting with pre-testing, OCT mapping and helping in optical, until finding her true calling as our very capable Insurance Coordinator.
Lisa
Lisa is our Front Desk Manager and Social Media Marketing Specialist. She has been with us for 9 years managing the daily operation of the office when the Drs. are seeing patients, including scheduling appointments and preparing patient charts. Most recently, Lisa has become the content creator for our Facebook and Instagram pages, as well as our website.
Toni
Toni joined our staff in 2017 and has 16 years of optical experience. She is our frame buyer and is responsible for keeping our frame selection fresh and exciting. She also performs our OCT mapping and fills in as a pre-tester and optician.
Erika 
Erika is our Vision Source Representative. She is the face of our office at the quarterly Vision Source meetings. She joined our team in 2018 as an optician and has 6 years of optical experience. She is responsible for quality control for all of the incoming and outgoing jobs in our lab.
Katherine
Katherine joined our staff in 2019 as a pre-tester. With her 5 years of optical experience she quickly expanded her duties to include Optician. Most recently, she has become the scheduler and instructor for our contact lens dispensing classes.
Cassandra
Cassandra is the most recent addition to our Vision Source Family, bringing 3 years of optical experience with her. She is a pre-tester and optician. She also fills in at the front desk when needed, scheduling appointments and preparing patient charts.