Doctors & Staff
Meet the experienced and friendly doctors and staff who make Vision Source St. Charles the leading provider of vision care products and services in St. Charles.
Mark W. Kramer, OD
Dr. Kramer attended high school in Colorado. He received his B.S. in Biology with a minor in Chemistry from Texas Christian University in 1984. He is a graduate of the University of Houston College of Optometry in 1988.
Dr. Kramer has been practicing in St. Charles Illinois since 1988. Vision Source St. Charles is full scope optometric practice with Dr. Kramer's emphasis being on pediatrics, eye disease treatment and management.
Dr. Kramer met his wife Paula at Texas Christian University and has been married since 1986. They have 2 school age sons. In his free time Dr. Kramer coaches youth football and enjoys playing golf.
Douglas A. Yuvan, OD
Dr. Yuvan joined Vision Source St. Charles in 1999. He graduated from Oswego High School as the salutatorian, Northern Illinois University with a B.S. in Biology, magna cum laude, and Illinois College of Optometry, cum laude.
His practice is primary care optometry with an emphasis on contact lenses, vision therapy, and diagnosis and management of eye disease.
Dr. Yuvan currently resides in Elgin with his wife Judy and daughter Katherine. He enjoys tennis and golf, along with singing in the church choir.
Our staff will be happy to help you with your Eye Care needs!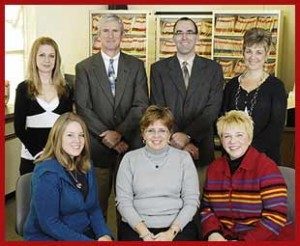 Paula
Paula is the Practice Manager and has been with the office since 1990.
Sue
Sue is our Refractive Surgery Coordinator as well as a contact lens specialist. She is available to answer any questions regarding refractive surgery and the process of pre-op and post-op care. She also has a wealth of knowlege about contact lenses. Sue has been with the practice for over 15 years.
Denise
Denise originally joined our staff a few years ago as the Front Desk Manager. Today she is our very capable Insurance Coordinator. She is also a Pre-tester and fills in in the optical shop when needed.
Lisa
Lisa has over 10years of optical experience and is currently an Optician and Pre-tester as well as a Contact Lens Dispenser in our office. Lisa is an excellent frame adjuster and very knowledgeable about optical lenses.
Jackie
Jackie is the Front Desk Manager. She is typically the first person you will meet when calling our office. She is responsible for scheduling and confirming appointments as well as acessing patients insurance authorizations, along with managing the day to day operation of the office when the Drs. are seeing patients.